We provide driving tuition in an automatic car or an adapted car or in a person's own vehicle. The driving lessons cater for people with:
• Physical disabilities
• Learning difficulties
• Hearing difficulties
• Language or communication difficulties
• Mental health issues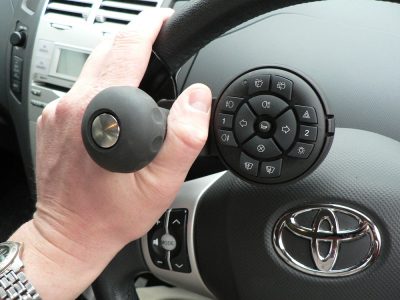 Driver Rehabilitation Courses
For anyone having acquired a disability/illness, or someone who has not driven for a long time, this course offers the opportunity to relearn to drive using adaptative equipment or automatic transmission.
This course can also benefit anyone who wishes to restore their confidence, especially following a road traffic collision.
Cognitive Driver Rehabilitation Course
A cognitive driver rehabilitation course may be suitable for anyone who wishes to ascertain if he or she has the ability to overcome any driving difficulties as a result of a cognitive impairment due to a brain injury or stroke. This driver training is not an option for everyone experiencing mild cognitive impairment as abilities vary individually.
Older Driver Refresher Course
A driver refresher course is to improve a person's knowledge and driving skills. It is ideal for someone who wants to update their driving skills and feel confident and competent on today's busy and complex roads. It can also benefit someone who has not been driving for a long time and wishes to restore their confidence. This course can also benefit drivers who wish to learn new routes.
Driving Awareness Programme
This programme is for health professionals, support groups, associations, etc. The presentation and information discussed are tailored to suit specific group requirements. It aims to increase knowledge and awareness of driving issues for people with disabilities and the older driver. It includes a PowerPoint presentation on driver assessment and an adapted vehicle presentation.
Driving Instructor Training
At Southern Mobility, we provide information and training for Road Safety Authority, Approved Driving Instructors (RSA ADIs). This programme is to promote awareness, provide knowledge of vehicle adaptations, develop specialist skills to teach people with disabilities and supports the ADI in increasing their services.